A limited number of scholarship grants and other forms of financial assistance is available to qualified students.
The assistance is made possible through the generosity of donors and institutions that have joined UPOU in providing better opportunities for education.
📌A N N O U N C E M E N T:
KEB Hana Scholarship Program

(OPEN)



KEB Hana Bank is one of the largest and well-recognized bank in South Korea. Having established a number of branches overseas, the Bank has long been in partnership with the Philippines since 1983.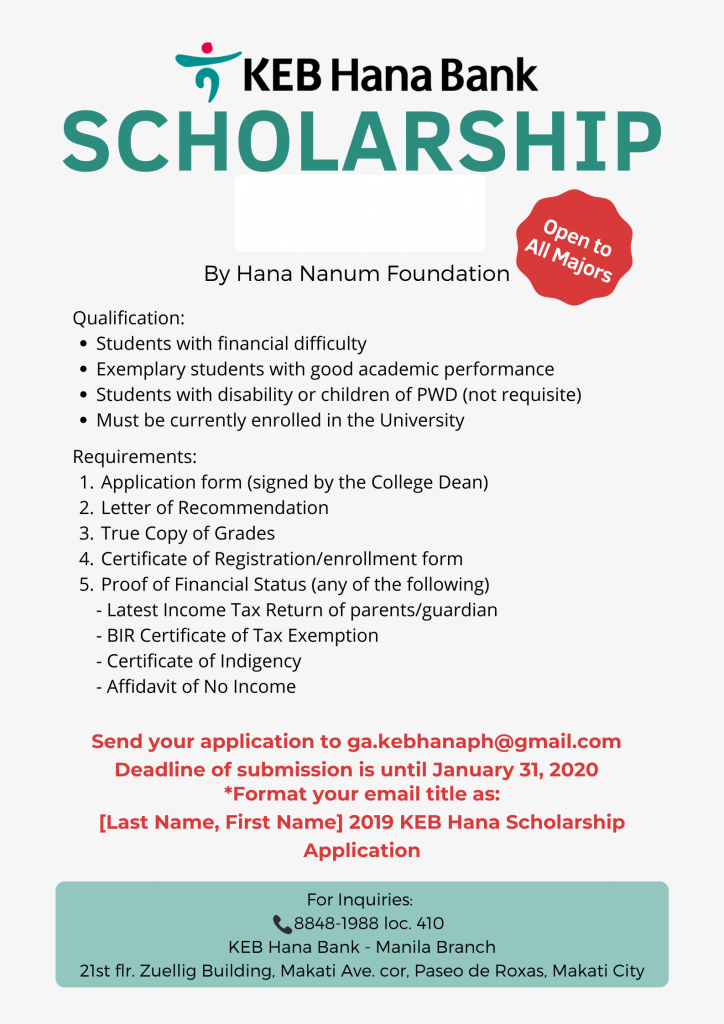 Download the Application_Form  here.
---
 U.P. PRESIDENTIAL  SCHOLARSHIP GRANT
(EFFECTIVE FIRST TRIMESTER, AY 2019-2020) - CLOSED
1 SLOT ONLY
 DEADLINE OF APPLICATION: 14 JUNE 2019 (FRIDAY)
QUALIFICATIONS:
1. Must be a natural born Filipino Citizen

2. Must be a bonafide student enrolled in any undergraduate program (except for Freshman) in the UP System

3. Must have a General Weighted Average of at least 1.75.
BENEFITS:    
Free school fees except student fund
Monthly stipend                                                                            2,000.00
Book allowance                                                                             2,000.00/sem             
REQUIREMENTS:
Please fill out the application form below:

Other requirements:
1. One (1) 2x2 photo
2. Current Income Tax Return of parents; if exempted from filing attach BIR Cert. of Exemption; if parents are unemployed, attach notarized affidavit of income
3. Form 5
4. True Copy of Grades from previous semester(s) (Cumulative GWA should be 1.75)**
5. Cert. of Good Moral Character
6. Birth Certificate
7. Three (3) recommendation letter from previous Professor
8. Kindly make an early request of your True Copy of Grades (TCG) for all semesters prior to submission of your application requirements. This is to give ample time to prepare the TCG.
9. Recommendation/Certificate of Good Moral Character from current employers
Note: Scan and email the accomplished application forms and other supporting documents to scholarships_applications@upou.edu.ph on or before 14 June 2019. Then, the original copy should be sent through this mailing address:
SCHOLARSHIP AND FINANCIAL SERVICES PROGRAM
Office of Student Affairs
UP Open University, Los Banos, Laguna
Tel.# (049) 536-6001 to 06 loc. 340
"Incomplete application requirements will not be evaluated"
__________________________
Applying for Refund as Scholar:
 For those scholar/s who has paid his matriculation fee and wishes to  to a refund of his/her tuition and miscellaneous fees. This is subject for approval.
1. Submit/mail the following documents to the Scholarship and Other Financial Assistance Program, Office of Student Affairs send electronic copy to scholarships@upou.edu.ph
- Copy of Registration form (Form 5)
- Copy of proof of payment
2. Please wait for the release of the check, e-credit notification for Landbank and Veterans Bank and other refund options including the payment reversal.